Red pu leather keychain for airline gift
We sell leather and pu leather label before, One of customer want to develop leather keychain, which is different from fabric keychain.
Mr. Eric sent first inquiry on Feb 12th, 2019, just a simple sentence: '' can you quote for leather keyring? ''. We were still spending Chinese Spring Festival, a few days later to start work. I tried to ask him whether there is any logo file for reference. He sent his logo and wanted REMOVE BEFORE FLIGHT LOGO on another side too, order quantity is 500 pcs for trial order. Actually our moq usually is 1000 pcs per design. I looked through his website, it is a pilot store, named La Boutique du Pilote, The Pilot Store has been established for more than 40 years and has four outlets. It has a long history. They sell all products for pilots, amateurs or professionals, students or advanced students for training, training, aircraft maintenance and platform design. All major brands are available in stores or on our website.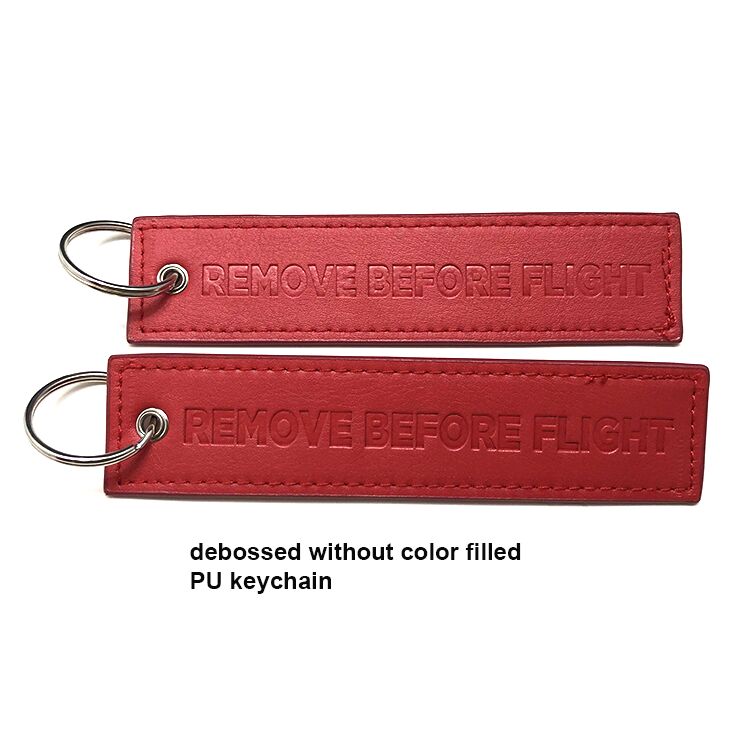 We checked price of Silkscreen logo on PU leather keychain for 500/1000 pieces. After went back to office, we also made artwork in brown color to Eric, he would like to see color range , then choose the one he liked from it. Finally, he choosed red color, which is closed to Panotne 185 C. He also was looking for pouches in velvet, but we don't have such supplier. We recommend black gift box packing to him, he also want to put logo on the box too, We found a similar size like his sample box. After few days later, there is still no response from him, he said that the artwork is still waiting for approval from his customer.
On March 13th, Eric decided to place order with us. There is 500 pcs remove before flight with single opp bag packing , 1000 pcs with different logo in black gift box packing. Before start bulk order, he want to make sample.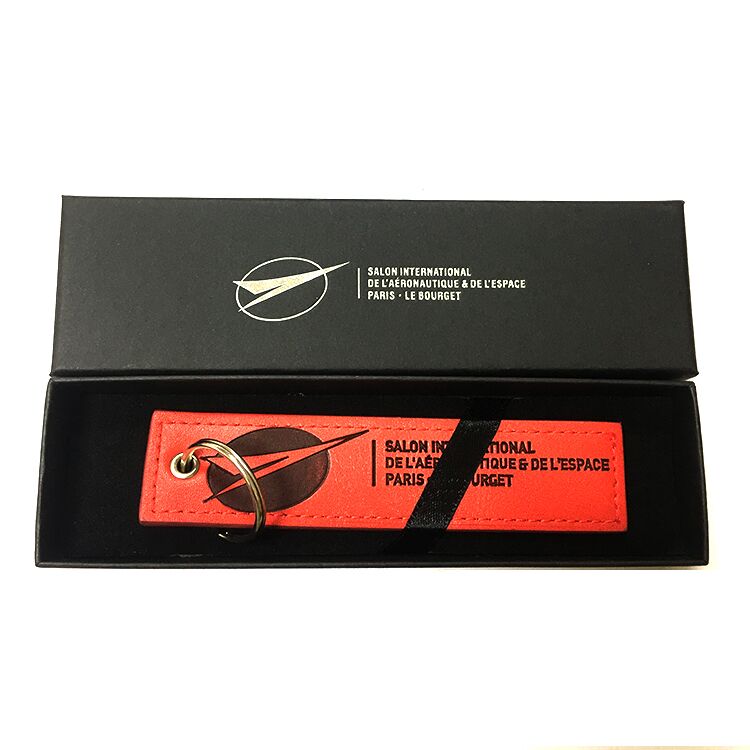 After receiving payment, we started to make sampe for approval firstly. The effect is debossed logo without color filled, we took picture and send it to Eric, he said ship it out. After receiving it, Eric didn't like it, he would like to change it to debossed with black color filled, we changed it as per to his request,but sample cost will be charged again. This is the 2nd sample order. sample time was 5-7 days , longer than that of fabric keychain.
Customer website:


As gift box is very light, so the shipping cost is very higher, we checked shipping cost on our side, but customer want to know the weight and volume, price on his side is very expensive, finally using our forwarder.
Order was finished on May, Eric liked the quality, he said he will place more order with us.
Contact Us